BARB, the organisation that measures the UK's television audience and viewing habits, has just released a new SVOD Report based on data from its Establishment Survey which covers 53,000 household interviews every year. Distilling the document down, here are three top-level findings from the report:
#1. "Unidentified Viewing" climbs to 19% in Q3 2018
BARB defines "unidentified viewing" as SVOD viewing, playing games and watching programming more than 28 days after broadcast. These activities now form 19% (or 46 minutes) of all daily television viewing – up from 16% (40 minutes) in Q3 2017.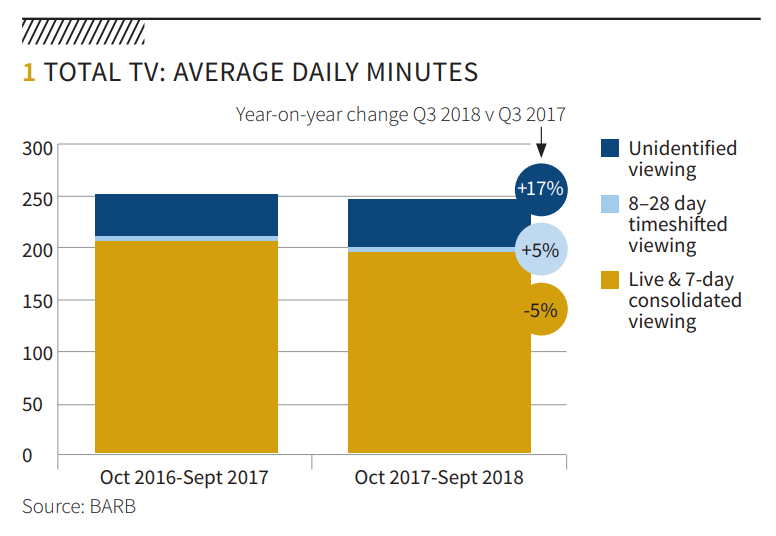 #2. 11.6m UK homes have use at least one SVOD service
Those SVOD services being either Netflix, Amazon Prime Video or NOW TV. This is a YOY increase of 22% between Q3 2017/18. Overall, Netflix has added 2.2m households over the period, Amazon more than a million homes and NOW TV accounts for nearly 200,000 new subscriptions. The number of households using two or more SVOD services has risen by 40% from 2.8 million to just under 4 million in the past year.
#3. Amazon has the biggest penetration among ABC1 subscribers
From the report: "Possibly unsurprisingly, 64% of households that subscribe to any of the three SVOD services are ABC1, well ahead of the 53% that ABC1s represent in the UK population overall. The biggest player, Netflix, and Now TV are both in line with this average, with 63% ABC1 households. Amazon, however, has an ABC1 profile of 73% – indexing at 38% ahead of the UK."
BARB's SVOD Report, including all numbers from its Establishment Survey since Q1 2014, can be found here https://www.barb.co.uk/trend-spotting/the-svod-report/