The top 10 service providers in the United States collectively lost over one-and-a-quarter million television subscribers in the first quarter of 2019, as reported by the informitv Multiscreen Index.
AT&T moved to the top of the table, with 22.36 million premium television subscribers in the United States, as it now combines the results for DIRECTV and AT&T U-verse. It also sustained the greatest subscriber losses, shedding 544,000 premium customers, and a further 89,000 from its DIRECTV NOW online offering. DISH Network lost a further 259,000 television subscribers.
Altice USA also consolidated the reporting of its Optimum and Suddenlink operations, with a combined loss of 10,200 television subscribers, compared to 15,300 the previous quarter, for a total of 3.30 million.
Comcast cable television customers declined 107,000, compared to 19,000 the previous quarter, marking its eighth consecutive quarterly loss, down 358,000 year on year to 20.85 million.
Charter Spectrum lost 152,000, compared to a loss of 36,000 the previous quarter and was down 327,000 year on year to 15.95 million.
DISH Network lost 266,000 satellite television subscribers, compared to 381,000 the previous quarter, making a loss of 1.21 million in 12 months. Sling TV gained 7,000 online subscribers, with a total of 2.42 million, so total television subscribers were 12.06 million, down by 259,000.
Verizon Fios shed 53,000 television subscribers, a slight increase on 46,000 the previous quarter and down by just under 200,000 over the year.
Frontier re-entered the top 10, with 0.78 million television subscribers, as a result of the consolidation of reporting by other operators, but lost 54,000 television customers in the quarter.
Mediacom also returned to the top 10, with 0.76 million television customers, down by 12,000 in the quarter.
"There were losses across the top 10 television services in the United States, with even the DIRECTV NOW online service losing customers following previous heavy promotion. Between them, they lost over one-and-a-quarter million subscribers in three months. They still command a significant number of customers but the rate of attrition has increased," observed Dr William Cooper, the editor of the informitv Multiscreen Index.
The top 10 services for the United States in the Multiscreen Index now have 81.90 million television customers between them, accounting for slightly less than 70% of television homes. Subscriber numbers are as reported by service providers, rather than analyst estimates. Cox Communications is not included in the top 10 as it does not report subscriber numbers.
The Multiscreen Index comprises 100 leading multichannel television and video services that collectively account for around 440 million subscribing homes worldwide. The index provides an industry benchmark of the relative performance of television service providers against which customer gains or losses can be measured.
The latest quarterly Multiscreen Index report is available from multiscreenindex.com.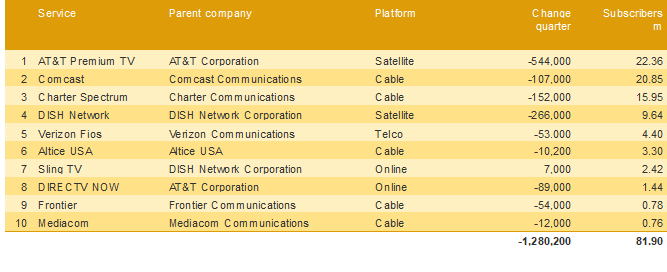 Television subscriber numbers at the end of March 2019 for the 10 leading pay-television services in the United States that report figures.
Source: informitv Multiscreen Index
informitv
Offering an informed view of the future of television, informitv provides independent news, research, analysis, consultancy and practical implementation services to media and technology companies worldwide. Clients range from small start-up ventures to major multinational corporations. The informitv Multiscreen Index tracks 100 leading pay-TV services worldwide and is published quarterly.
About the author : Kauser Kanji
I've been working in online video since 2005 and have held senior roles at NBC Universal, ITN and Virgin Media. I've also completed VOD projects for the BBC, Netflix, Sony Pictures and a host of broadcasters and service-providers all over the world. Catch me on our weekly debate show, OTT Question Time, or drop me a line on LinkedIn.