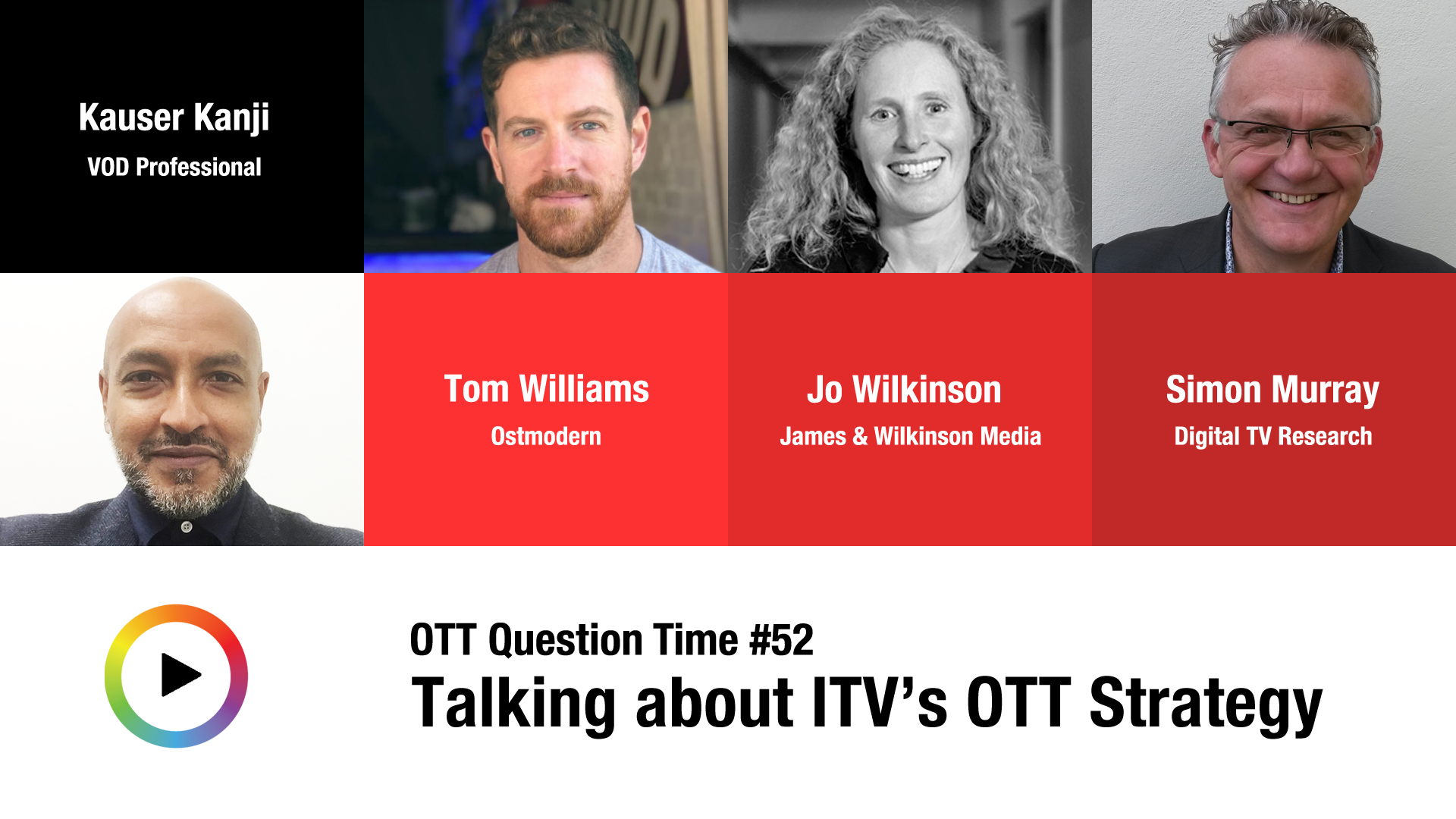 As a broadcaster, and as an OTT service-provider, ITV is a fascinating company to study and analyse. Sure, it comes with a legacy tech stack but has often been willing to embrace vendor and platform solutions to quickly get to market. It operates using lean teams full of smart people to deploy those products. And, at the same time, it always seems to have its camera set to wide angle – maximising linear and digital advertising income, cultivating new revenue streams and building an end-to-end workflow to help do that.
Following the recent news that ITV has bought out the BBC's shares in BritBox, and that it intends to launch a new amalgamated on-demand service called ITVX, at this week's OTT Question Time (Thursday 10th March, 4pm UK) we talked about ITV's OTT strategy.
Together with Tom Williams, CEO of Ostmodern, Jo Wilkinson, Director of James & Wilkinson Media, and Simon Murray, Principal Analyst at Digital TV Research, we discussed:
ITV's OTT products including ITV Hub, BritBox, Planet V and ITVX
Its performance to date – subscribers, advertising and digital revenues
ITV's modus operandi – how it does what it does
ITVX – with (reportedly) 15,000 hours and 20 FAST channels at launch, is ITV aiming to turn it into a destination service to compete with Netflix, Amazon etc.?
And what other commercial broadcasters, all over the world, can learn from the company
**
About the author : Kauser Kanji
I've been working in online video since 2005 and have held senior roles at NBC Universal, ITN and Virgin Media. I've also completed VOD projects for the BBC, Netflix, Sony Pictures and a host of broadcasters and service-providers all over the world. Catch me on our weekly debate show, OTT Question Time, or drop me a line on LinkedIn.
OTT Question Time Partners