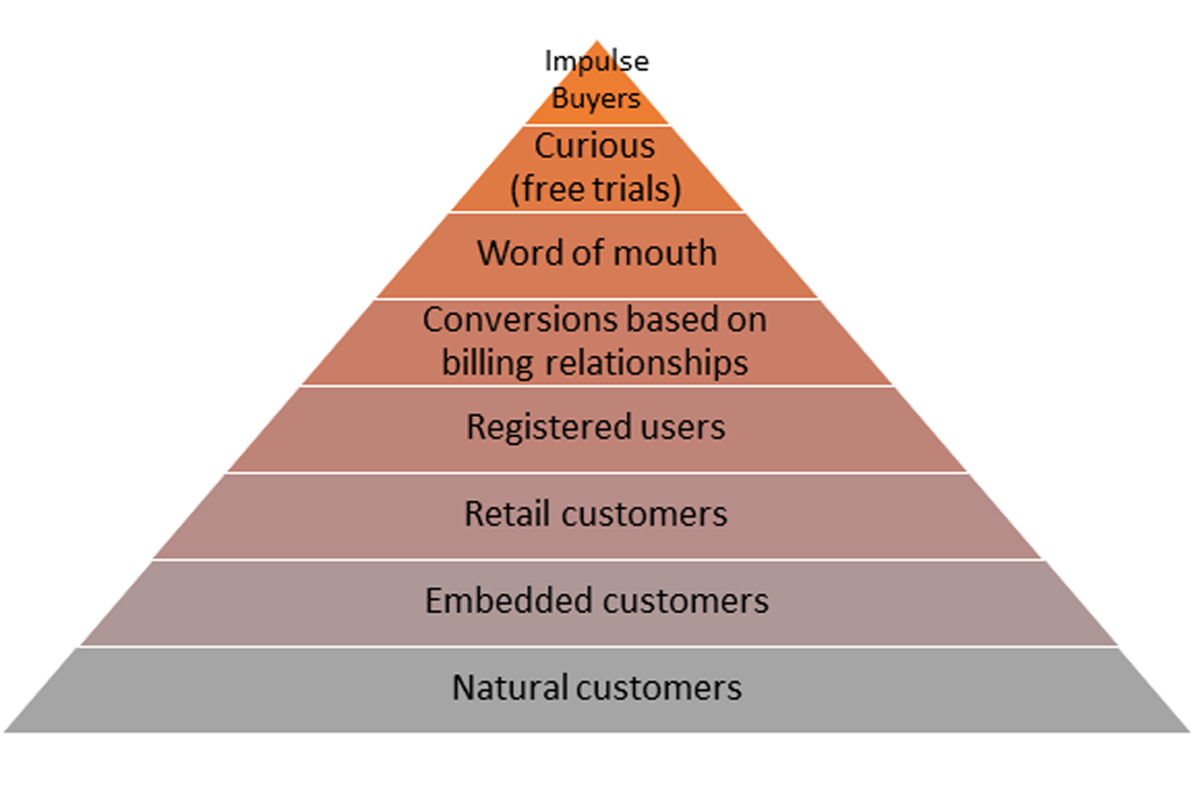 Earlier this month I suggested that the Streaming Wars should more accurately be described as the Streaming Skirmishes because although this wasn't a winner-takes-all scenario, and that multiple SVOD services could happily coexist, even if (hypothetically) one champion emerged they'd still then need to tackle the wider threats for attention and eyeballs from editorial, gaming, social, real-life experiences and eventually, AR / VR. 
It's still fun to play the game, however, and try to address the question for our industry alone: if there could only be one victor, who does win the Streaming Wars?
The obvious answer is the company that is best at turning prospects into enduring – rather than ephemeral, seasonal or tactical – customers. 
To understand the acquisition strategies of the various contenders, we can create a pyramid of customer types that looks something like this: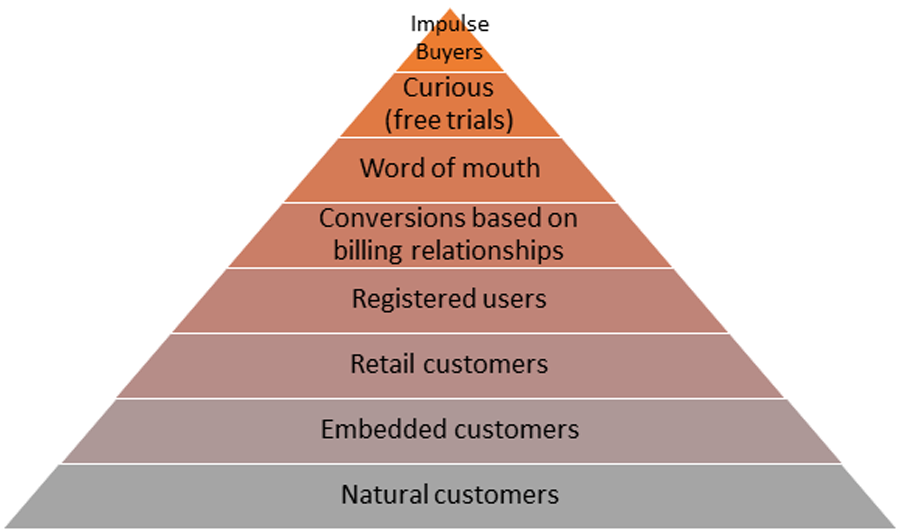 Every VOD service can, to a greater or lesser degree, benefit from impulse buyers, free triallists, word of mouth customers and people who have already registered for updates or limited access. But the really big guys come with existing constituencies that can also be converted into loyal, longer-term clients.
Sky and HBO, for example, can draw on their satellite / cable customers. Amazon has 200m worldwide retail customers. Google and Apple – and their related operating systems, app stores and OTT services – are embedded into billions of laptops, smartphones, tablets, TV devices and voice assistants.
My guess, however, is that the winner of the Streaming Wars is… 
Disney.
Why? Because Apple has hardware, but Disney has merchandise; Google has YouTube, Disney has Hulu; Amazon has direct billing relationships with millions of people, Disney too has billing relationships with the millions of people that visit its theme parks.
And on top of that, Disney has almost 100 years' worth of content (including, of course, the Marvel and Star Wars catalogues) that captivates viewers whatever their age.
The real clincher for me though is that Disney has an ever-replenishing customer base: children. Kids become teenagers, become adults, become parents. And at every stage, whether they know it or not, they're engaging with Disney content, products and experiences. They have loyalty baked in. Confirming that by subscribing to Disney+ is, therefore, only natural.
What do you think? Good theory / bad theory? Drop me a line with your thoughts or add a comment if you're seeing this on LinkedIn. 
About the author : Kauser Kanji
I've been working in online video since 2005 and have held senior roles at NBC Universal, ITN and Virgin Media. I've also completed VOD projects for the BBC, Netflix, Sony Pictures and a host of broadcasters and service-providers all over the world. Catch me on our weekly debate show, OTT Question Time, or drop me a line on LinkedIn.